Through a shared passion for research and knowledge of materials used in the fashion industry, this Capsule Collection features the iconic ODP handbag styles, dressed in sustainable materials personally-selected by model and Sustainable Fashion Ambassador Arizona Muse and ODP Founder Allison Hoeltzel Savini.
The Capsule Collection features organically-dyed up-cycled salmon and ostrich skins, organic cotton velvet, recycled polyester synthetic leather, and traditional materials such as vegetable-tanned leather from Tuscany, dyed using plant-based vegetable tannins and adhering to strict anti-pollution regulations.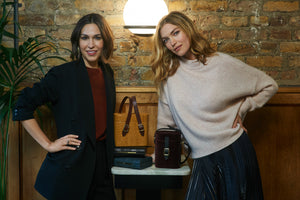 "I already appreciated ODP's ethos and approach to bag-making, with their timeless styles and a focus on fine materials and constructions, making the bags pieces which will last a lifetime and already a first step in the right direction. We just took it one step further, finding new materials which were more sustainable, without altering the quality or aesthetic of the product" said Muse. "My goal is to help fashion brands understand that they can approach the process of becoming more sustainable through successive steps, which is more feasible and less-intimidating."
The materials were found using the help of The Sustainable Angle, a London-based non-profit organisation founded to initiate and support projects which contribute to minimising the environmental impact of the fashion industry.