Enzo Bonafè for ODP Footwear Collection
Discover this exclusive collection featuring classic styles, handcrafted in Bologna in collaboration with the historic shoemaker Enzo Bonafè.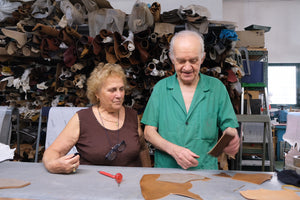 This collection features timeless styles of feminine silhouettes with solid constructions, made to last for a lifetime. The factory was founded in 1963 by Enzo Bonafè and his wife Guerrina, who both still work in the factory and oversee the daily activities. They have passed the expertise to their children, Massimo and Silvia, who continue to preserve the traditional shoemaking methods. Each shoe is crafted through a process of over 300 meticulous steps, hand-sewn and using the highest-quality materials such as all-leather linings and soles and full leather-stacked heels. The Mary Jane is made using a "Bolognese" construction, in which the upper is hand-stitched to a softer lining to form a glove-like fit, then stitched on the inside of the shoe to the sole, allowing for the shoe to be re-soled while maintaining the upper. The Chelsea Boot is crafted using a traditional "Blake" construction, allowing for a streamlined look and maximum flexibility.